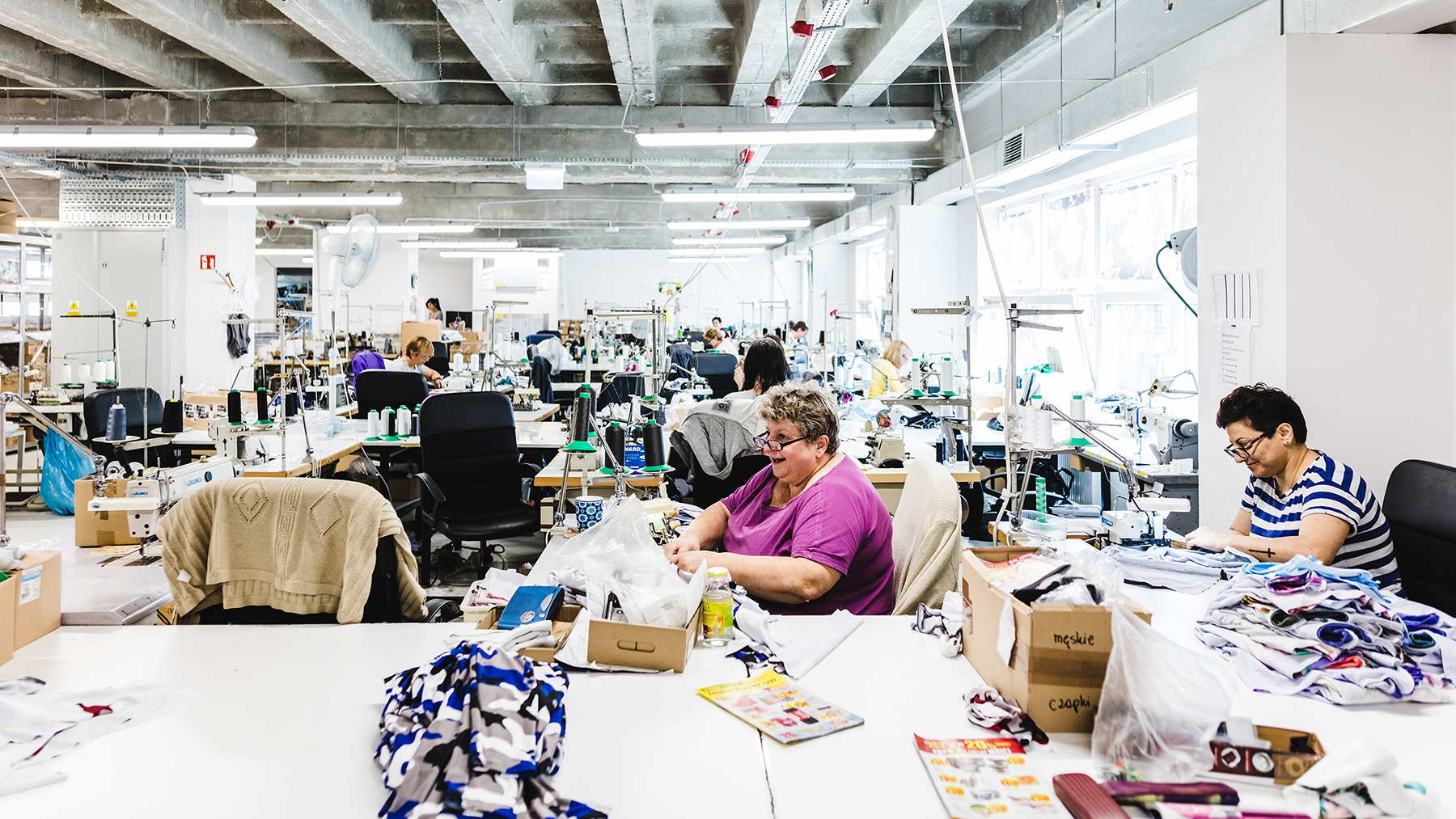 Nasza fabryka mieści się na południu Polski, w malowniczym mieście Bielsko-Biała, którego tradycje włókiennicze sięgają 500 lat! Z dumą kontynuujemy te fantastyczne tradycje, które przez lata przynosiły miastu sławę.
Dowiedz się więcej o firmie LETHE i naszej misji, którą obraliśmy wiele lat temu i do dzisiaj ją kontynuujemy.
Jak to się zaczęło?
Firma technologiczna-odzieżowa LETHE powstała w 2011 roku, a założył ją młody polski przedsiębiorca Jakub Chmielniak. Od samego początku celem LETHE było dawanie radości ludziom poprzez kolorowe ubrania z nadrukami o różnorodnych motywach. Mimo tego, że przez prawie 10 lat zmieniło się wiele, nie zmieniła się nasza misja i w dalszym ciągu, każdego dnia tworzymy dla Was nowe ubrania, które pozwalają Wam wyrazić siebie. Latami dopracowywaliśmy nasz proces produkcji, poprawialiśmy druk, testowaliśmy coraz to nowe, lepsze materiały, ale nie odeszliśmy od naszego bazowego planu i obiecujemy, że nigdy z niego nie zrezygnujemy!
Materiały i produkcja
Mimo tego, że produkty Aloha from Deer noszą ludzie na całym świecie i każdego roku wysyłamy paczki do ponad 40 krajów, nasza marka jest w 100% z Polski. Pochodzimy z Bielska-Białej i kontynuowanie wieloletniej tradycji włókienniczej pozwala nam identyfikować się z naszymi korzeniami. To tutaj wszystko się zaczęło, tutaj wszystko dalej się odbywa i z pewnością się to nie zmieni, bo jesteśmy z tego bardzo dumni. Kupując ubrania Aloha from Deer zyskujesz coś więcej niż tylko kolejną bluzę, która została masowo wyprodukowana w Azji. Nasza odzież niesie za sobą historię, która zaczyna się już od projektu. Nasi graficy każdego dnia projektują dla Was kolejne niesamowite nadruki, a ich wyobraźnia wydaje się nie mieć końca.
Proces produkcji naszych ubrań zaczyna się na krojowni, gdzie składujemy białe belki najlepszych jakościowo materiałów, które sprawiają, że nasze bluzy są tak trwałe i przyjemne w noszeniu. W tym samym czasie na drukarni na specjalnym materiale drukowane są Wasze ulubione grafiki, które już niedługo przeniesione zostaną na materiał z krojowni. Po wykonaniu wykrojów na bluzę, t-shirt czy legginsy, białe kawałki materiału trafiają właśnie na drukarnię, gdzie dzieje się prawdziwa magia! Za pomocą termosublimacji na maszynie zwanej kalandrem, łączymy je z materiałem. Dzięki użyciu termosublimacji, która charakteryzuje się wysokim ciśnieniem i temperaturą mamy pewność, że grafika nigdy nie straci kolorów, nie wypłowieje, a nasze wyjątkowe produkty będą Wam służyć latami. To oczywiście dopiero pierwsza część tego skomplikowanego procesu, którego finalnym efektem są kolorowe bluzy, koszulki czy spodnie. Zadrukowany materiał trafia na szwalnie, gdzie krawcowe łączą elementy w jedną całość. W zależności od szytego produktu, w procesie szycia udział bierze nawet kilka maszyn. To wszystko po to, aby oddać Wam do użytku produkty trwałe, dopracowane do perfekcji pod czujnym okiem Pań, które znają się na tym jak nikt inny. Uszyty produkt trafia na kontrolę jakości, gdzie dokonujemy ostatnich poprawek, sprawdzamy finalne wykonanie ubrań, które są następnie starannie pakowane i trafiają do wysyłki.
Ludzie i środowisko
Nasz pomysł na to, aby produkować ubrania na zamówienie nie jest związany tylko z tym, aby dawać Wam produkty wyjątkowe i uszyte specjalnie dla Was. Kochamy przyrodę i środowisko naturalne! To dzięki nim osiągnęliśmy sukces i to przyroda stanowi dla nas jedno z cenniejszych źródeł inspiracji. W związku z tym nasza produkcja jest ściśle podporządkowana dbałości o środowisko. Chcemy być jak najbardziej naturalni. Produkujemy dokładnie tyle ile trzeba, zużywamy dokładnie tyle materiałów ile potrzebujemy, nie generując zbędnych śmieci. Akceptujemy tylko te rozwiązania, które przyjęte są w nowoczesnym świecie i które jednocześnie gwarantują poszanowanie dla przyrody.
Wiemy też, że nasza firma nie byłaby w stanie działać gdyby nie ludzie. To dzięki dziesiątkom krawcowych, drukarzy, pracowników krojowni i magazynu, firma LETHE mogło odnieść tak duży sukces, a Wy możecie cieszyć się wyjątkowymi, niesamowitymi produktami. Wiemy, że siła społecznej odpowiedzialności jest ogromna. Zatrudniamy pracowników na umowach o pracę, zapewniamy godziwe wynagrodzenie, bo dzięki temu wiemy, że będą mogli oni w 100% skupić się na pracy i dać z siebie to, co mają w sobie najlepszego. Z każdego staramy się wyciągnąć pełnię jego potencjału i każdy dokłada swoją cegiełkę do rozwoju naszej firmy, pozwalając nam kontynuować obraną w 2011 roku misję.